Your Adult Rocking Chair Redefines Comfort, Peace, and Total Enjoyment.
---
The adult rocking chair must offer a great deal more than just a comfortable place to sit. The best design allows for total relaxation so the stresses of the day can leave you quickly.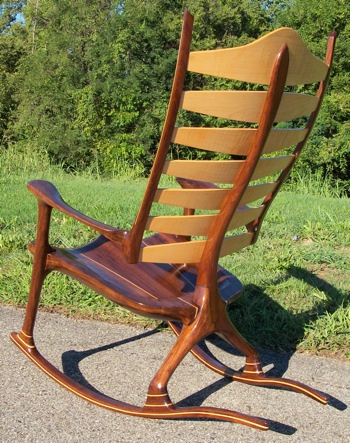 Most of us are unaware of how much stress builds up in our average day.
That's not a surprise considering the high levels of activity we have in our modern world.
The mental stress of making important decisions and the physical stresses on our bodies directly affect our moods and quality of life.
For example, the simple fact of being on our feet all day can easily lead to fatigue and tension.
Then, when we go home for the evening, we take all that stress (and the usual rush hour traffic stress!) with us.
There is convincing evidence that excess stress wears down our immune system thereby making us susceptible to a variety of illnesses.
Here is a great link to a whole host of medical research on this topic and related ones in general. http://www.floatingbed.com/features-benefits/medical-research/
That's why it is so important to have a place to go in which to unwind. the rocking chair will give you that place and help you quickly drop that daily stress load.
Many studies have indicated that the ability to relax after a stressful day significantly improves the outlook and mood and health in general. Rocking improves blood flow to tired muscles, and efficiently removes that built up stress.
Review item 7 called Stress, overall fitness, and /or Elders at the following website to learn more. http://www.floatingbed.com/features-benefits/medical-research/
In as little as 10 to 15 minutes, your custom-fit rocking chair can melt away hours of stress. That's good for you, and good for those around you. Best of all, this enjoyment lasts throughout the years!
Return from here to the Benefits of Rocking page.