The Custom Rocking Chair Qualities of Beauty and Function are Found in All These Wonderful Pieces.
---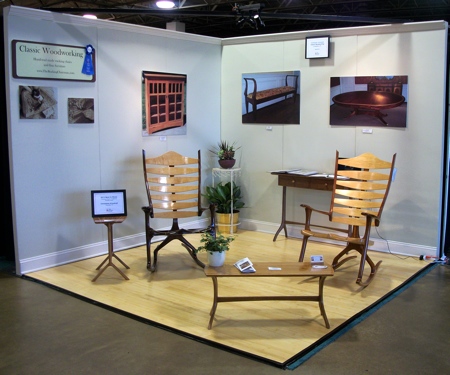 A beautiful custom rocking chair doesn't just happen -- it is  developed from a long pedigree of building other outstanding furniture. 
On this page you will find a few of the very many pieces of fine furniture I have built for clients over the past 21 years.  Rather than fill pages with lots of photographs, I have decided to display a small sample with a description of its creation.  That way you can see how I work with clients to obtain just what they are looking for.  Enjoy!
---
Dining Tables and Small Tables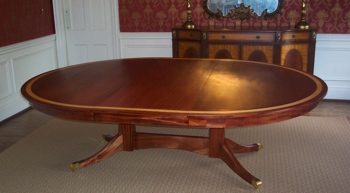 Dining tables are among the most uniquely styled pieces in the home. (Not unlike the custom rocking chair!)  The two examples shown here are proof of that.
This large mahogany table is 8 feet long by 48 inches wide when fully opened.  The client wanted a piece to compliment the hutch (seen in the background) and fill the space when there were large gatherings. 
This table has interesting features such as: a one-hand "super-glide" opening and closing mechanism, a faceted apron that reflects light in a beautiful way, bold maple and ebonized maple inlay, and brass foot caps with rollers.  
The client was very pleased to have this level of functionality and beauty combined into this one piece.
The solid cherry table shown here is made of locally harvested Kentucky cherry and is 8 feet long by 60 inches wide. 
It has a more traditional Shaker-looking style to match the tastes of the clients.  It also has features tailored to their needs -- for instance, it has two leaves for more versatility in sizing.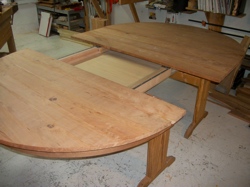 The geared table slide mechanism seen in this photograph allows for easy one-person opening and closing.
During the construction, a dead-smooth top surface is achieved by planing and scraping until all the defects are removed.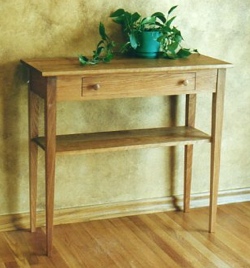 This Shaker-inspired side table is 40 inches long by 14 inches wide and 32 inches tall.  The classic Shaker lines really fit well in the client's home. 
It's made from white oak and finished with a durable oil modified polyurethane.  The drawer features hand-cut dovetails, while the storage shelf below gives this little table ample storage space.
Seating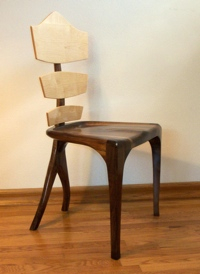 As you might expect, I build more types of chairs than just the custom rocking chair!  This piece is a special one designed and built for a professional classical guitarist. 
He enjoyed the rocker design and asked if I could incorporate that same feel into a chair he could take to concerts.  I agreed and he is enjoying the walnut and maple "Guitar chair" to this day.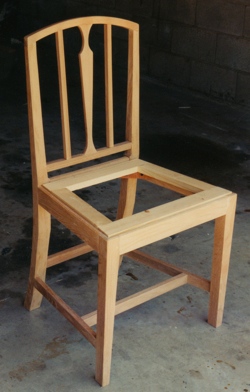 Over the years I have made dozens of chairs in many different styles.  They are usually made to complement an existing table or to match a table I have made.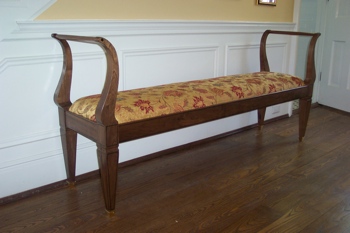 This side bench was made to match the styling and space for a particular home.  The walnut frame, black border inlay and brass foot caps accentuate the graceful lyre-shaped ends. 
It is 6 feet long, 20 inches wide and was upholstered by me with a special fabric chosen by the customer.
Bedroom Furniture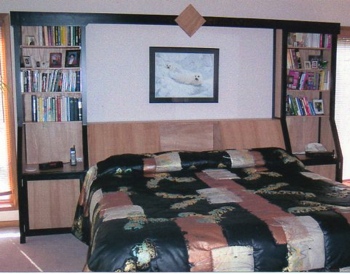 This bedroom suite consists of a king-sized bed, side cabinets with bookshelves, headboard cabinets, an entertainment center, a dresser, and wall shelving. 
All the wood for this project came from the clients' beloved ash tree that was struck by lightning. 
The styling is my own interpretation of Danish modern with the bright ash and black lacquer.  
Over the years, I have built many other beds, dressers and entertainment centers.
Cabinetry
Here are two examples of fine furniture cabinets specifically designed and built to suit the clients' needs.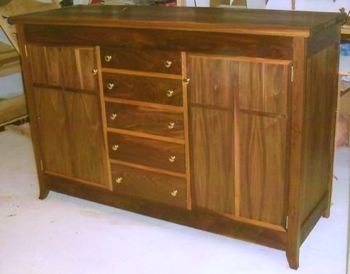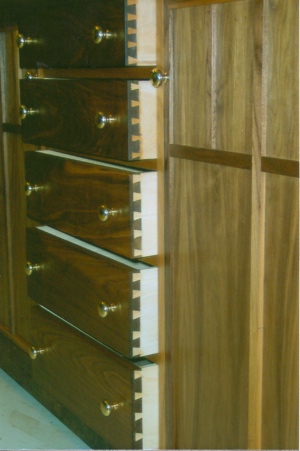 This one is a 5-drawer, 2-door walnut and poplar china cabinet built to fit a particular space in a client's home. Each drawer features 10 beautiful hand cut dovetails. 
The whole piece is finished with an environmentally friendly coating.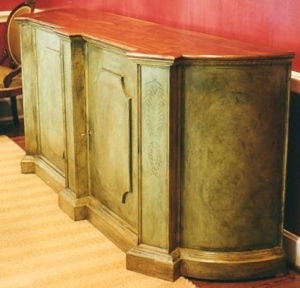 This cabinet was built to fit the decor of a particular room in a client's home.  Space was limited and typical side hutches were too deep. 
I built this painted and curved-front sideboard with a walnut top to fit the space and go well with the surroundings. 
The clients were especially grateful for the curved ends which eliminated a "head bonking" hazard for their small children.
Other Furnishings
Occasionally, clients have a particular need that no one else seems able to satisfy. 
We live in a society in which our choice of products can be limited to a specific style or type that sells the best.    For instance, a house built in the 1850's looks most appropriate with period furnishings -- not something that will likely be found at the local furniture market!  
Even some brand-new homes have spaces that call for a unique furnishing.  That is where my work is so valuable. 
I design and build furniture to suit the desires and budget of each particular client, just as I do with the custom rocking chair. 
Here are a couple of examples of other furnishings:

This reclaimed old-growth and quarter-sawn white oak grandfather clock was designed and built for a particular space in the client's home.  
It's 6 feet tall and about 24 inches wide at the base.  Unlike most grandfather clocks, this one was constantly viewed from above as well as from the sides and front because it was located in an open stairwell. 
That meant designing it to look good from all angles.  The arts and crafts look appealed to the clients as did the high quality German movements.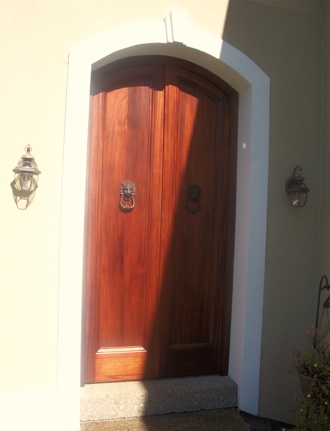 These doors are made to accent an exterior patio area at a client's home.  The covered patio has the design and look of an old Italian villa, so it was vitally important to get a matching "feel" for the doors.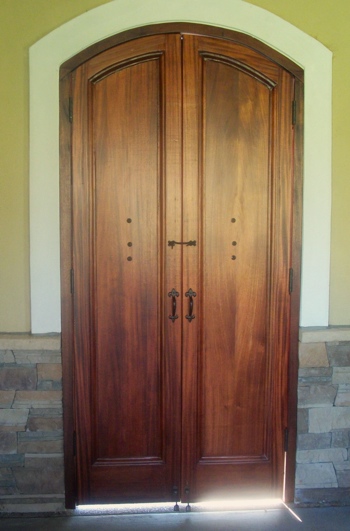 The 8-foot-tall by 2-foot-wide arched double-doors are solid mahogany with a recessed panel-in-frame design. 
The lion's head hardware and heavy duty oiled bronze hinges really bring home the beauty of the wood.
---
As you can see here, I make lots of other kinds of beautiful fine furniture besides the custom rocking chair.  Contact me here for more information.
Return from Furniture Gallery to Custom Rocking Chair