These Custom Rocking Chairs
Are so Engaging,
It's Love at First Sight.
---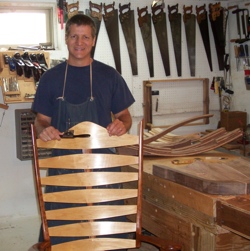 The custom rocking chairs I design and build come to life when experienced in person. 

People from around the country have said that seeing (and touching and using) really is believing when it comes to these wonderful chairs! 
Each one is hand tool made and has its own personality, just like its owner!  Come by and try one out.
Below are the events, times and locations where I will be displaying my beautiful rockers and other fine furniture.  
Updates will happen regularly so check back often.
Thank you.
Christopher Krauskopf
Master Furniture Maker,
Classic Woodworking
---
St. James and 3rd Street areas
Louisville, KY 
A beautiful outdoor venue for fabulous furniture and other fine crafts!  I will be in booth #903, 3rd street.

Show times:
All Day October 6-8, 2023
https://www.stjamescourtartshow.com
---
Return from custom rocking chairs Current Events Page to Home Page