My Handmade Rocking Chair Design is The Pinnacle of My Fine Furniture Making Career.
---
The handmade rocking chair I've designed and built represents the peak of my fine furniture-making gifts and talents.
Ever since building my first rocking chair in 1979, the chair, especially the custom rocking chair, has tugged at my heart.
Woodworking is in my blood, so to speak. I've been around it all my life and have had a great deal of informal training from my father and grandfather.
My father enjoys building wooden boats to this day, and my grandfather worked in wood for decades before his death in 1986.
In the mid 1990's, I decided to take the plunge into fine furniture making as a career, by starting my business, Classic Woodworking, of Louisville, Kentucky.
Since then, I have built hundreds of projects, from simple footstools to elaborate dining tables and chairs. Each one uniquely suited to the client's needs, built within budget and made without any power tools.
The great people at the Kentucky Arts Council have created this short video about me and my furniture.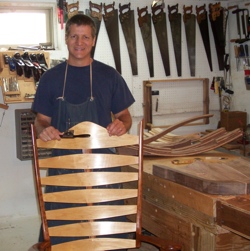 The custom handmade rocking chair really excites me because making it properly represents a tremendous challenge.
I was not satisfied with the idea of copying another's rocker design, as many skilled craftsmen do.
I wanted to create something that was unique, beautiful and comfortable for my customers. So, after several years of research, design and prototype work, a very special piece emerged. The seven-slat rocker seen above.
Another remarkable aspect of my fine furniture business is that I only use hand tools to build all the pieces, including the custom rocking chair! There are no power tools in my shop. Here are some reasons why.
First, I greatly enjoy using the tools that were available to the master craftsmen of old. Their phenomenal skill, precision and speed with the tools was something that I wanted to develop.

Second, hand tools allow a degree of freedom unattainable with power equipment. I am constrained, not by the limits of the equipment, but by the imagination!

Finally, the skilled use of hand tools is almost a lost art. I did not want to see the several thousand-year-old soul of this craft disappear. The speed, control and simplicity of various machines is nearly replacing the finesse and skill required by hand tools which impart a special quality and look to the furnishings that says, "I am made by hand, not by machine." Power equipment is quite valuable, of course, but for me, I think my gifts serve you best through the use of hand tools.
---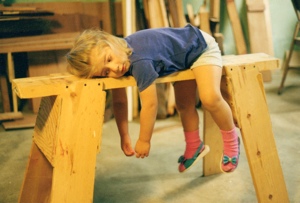 I am married to my beautiful wife Carol and we are raising 3 wonderful daughters who keep us busy -- unless, of course, they get sleepy!
We live a simple, faithful Catholic life here in Louisville, KY, where I build rockers and other fine furniture in my one-man shop.
If you have deeper interest in learning how I make a custom-fit, handmade rocking chair, click on this Building Process link.
Chris Krauskopf, The Rocking Chairman
Return from handmade rocking chair to The Rocking Chairman Home Page.