The Indoor Rocking Chair Gets Prepped for the Finishing Coat Before the First Board is Cut.
---
Preparing your indoor rocking chair (or outdoor rocker, for that matter) for the finishing process actually begins at the beginning!
That's because the type of wood used to make the rocker dictates how difficult or easy the finishing process will be.
No two woods behave in the same way. Walnut, for example, is easily shaved, scraped, and sanded down to the final figure, while oak or dense exotic woods take a lot more elbow grease to bring them to the same point. Here are the steps I use to prep your rocker for the finish line.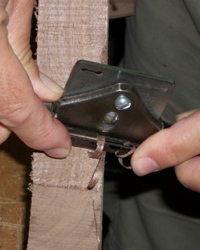 First, getting things into great shape

The custom indoor rocking chair is all about curves: curved seats, curved arm rests, curved back, etc. You deserve all this in order to get the most comfort.

Unfortunately, wood is sold as boards that must be worked into the right shape.

Once I handsaw the boards to the right size, I use a variety of special hand tools (like the spokeshave you see here) to shape the pieces into comfortable curves.
---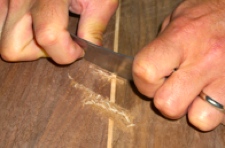 Second, scraping to perfection

Your indoor rocking chair then goes through the next phase of preparation, the scraping phase.

Most pieces are scraped with a flat or curved steel sheet about the size and thickness of an index card (above).

When sharpened and held properly, the very small hooked edge of the scraper takes an extremely fine shaving from the wood. The result is a beautifully clean and clear surface that's ready for finish.

Third, fine sanding, if need be

Some areas on your beautiful custom rocking chair are hard to reach with the scraper, so those get sanded. Unlike some craftsmen, I find no benefit to prepping surfaces beyond very fine 400 grit sandpaper.

Sanding up to extremely fine (1000 or 2000 grit) paper before finishing simply wastes time, money, and effort. The goal must be giving you the best value for your dollar.
As you can see, a lot of work is done before adding a coat of finish to your fine rocking chair. Once all this work is completed, the next step is to apply several coats of the finish of your choice. Click here to see how I take your chair across the finish line.


Return from the indoor rocking chair Prep for Success to the Finishing Process.